A Modular Framework /
Un Marco Modular
Main | At Cultural Center | At Museum of Santa Tecla | Events | Videos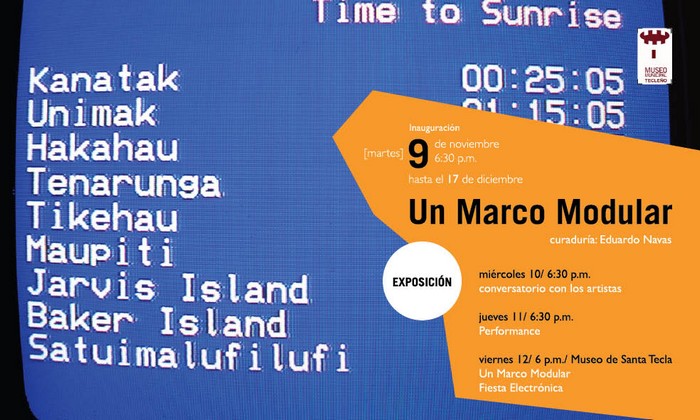 CURATED BY EDUARDO NAVAS
NOVEMBER 9 TO DECEMBER 17, 2010
CENTRO CULTURAL DE ESPAÑA
EL SALVADOR
Calle La Reforma #166,
Col. San Benito
San Salvador, EL SALVADOR
http://www.ccespanasv.org/inicio.php
Inquiries: eduardoATnavasseDOTnet
PARTICIPANTING ARTISTS/
ARTISTAS PARTICIPANTES:
Mayra Barraza, El Salvador
"Republica de la muerte"(2006)
Giselle Beiguelman, Brazil
"Sometimes" (2007)
Arcangel Constantini, México
"Atari Noise" (2000 to present)
Electronic Disturbance Theater
y b.a.n.g. lab, USA
"Transborder Immigrant Tool" (2010)
Belén Gache, Argentina
"Wordtoys" (2006)
Brian Mackern, Uruguay
"El Temporal de Santa Rosa" (2002)
"The Storm of Santa Rosa"
Antonio Mendoza, Cuba/USA
"Idiotrobot" (2010)
Fernando Orellana, El Salvador/USA
"Plain Text" (2008)
Paul Ramirez-Jonas, Honduras/USA
"Another Day" (2003)
Isabel Restrepo, Colombia
"Atandocabos" (2010)
Gustavo Romano, Argentina
"IP Poetry" (2006)
English:

A Modular Framework is an exhibition that brings together artists from Latin America, or artists who have ties to Latin America, and have been producing new media work since at least the mid-nineties, when new media and digital art began to take shape. Most of the works included in this exhibition are recent, and were chosen as examples of diverse and rigorous art practices. The artists, themselves, while they crossover to art practice at large, are pioneers in digital and new media art in their own countries and for this reason they were invited to participate in A Modular Framework.

This exhibition is the first of its kind in the Central American Region, and as such its purpose is to better acquaint the local culture with new media and digital art practice. At the same time, the exhibit is designed as a marking point, a fragmentary modular assessment of the rich production of new media art by a specific set of artists who share similarities in their approach to the medium of digital art as a proper practice. The works included comment in one way or another on interconnectivity and possibilities of communication by exploring diverse interests from politics to aesthetics.

Spanish

Un Marco Modular es una exposición que incluye a artistas latinoamericanos, o artistas con vínculos a la región que han estado produciendo su obra informados por la estética digital desde por lo menos los medios noventa: el mismo tiempo cuando el arte digital comenzo a emerger. Muchos de los trabajos incluidos en la exposición son recientes y fueron escojidos como ejemplos de prácticas diversas y rigurosas. Los artistas, mientras que sostienen una práctica de arte interdisciplinario, son pioneros en el arte digital y nuevos medios en sus propios paises, y por esta razón han sido invitados a participar en Un Marco Modular.

Esta exposición es la primera de su tipo en la región Centro Americana, por lo cual su propósito es de presentarle a la cultura local una pequeña muestra de la diversa práctica en el arte digital. Al mismo tiempo la exposición está diseñada como un punto de enfoque, como un modulo de evaluación de la rica producción en los nuevos medios por un grupo de artistas que comparten similaridades en su tratamiento de la tecnología como una forma artística propia. Las obras incluidas comentan de alguna forma u otra sobre la interconectividad y las posibilidades de la comunicación mientras que exploran diversos intereses desde la política hasta la estética, abstractamente.